NEW Stock Trailers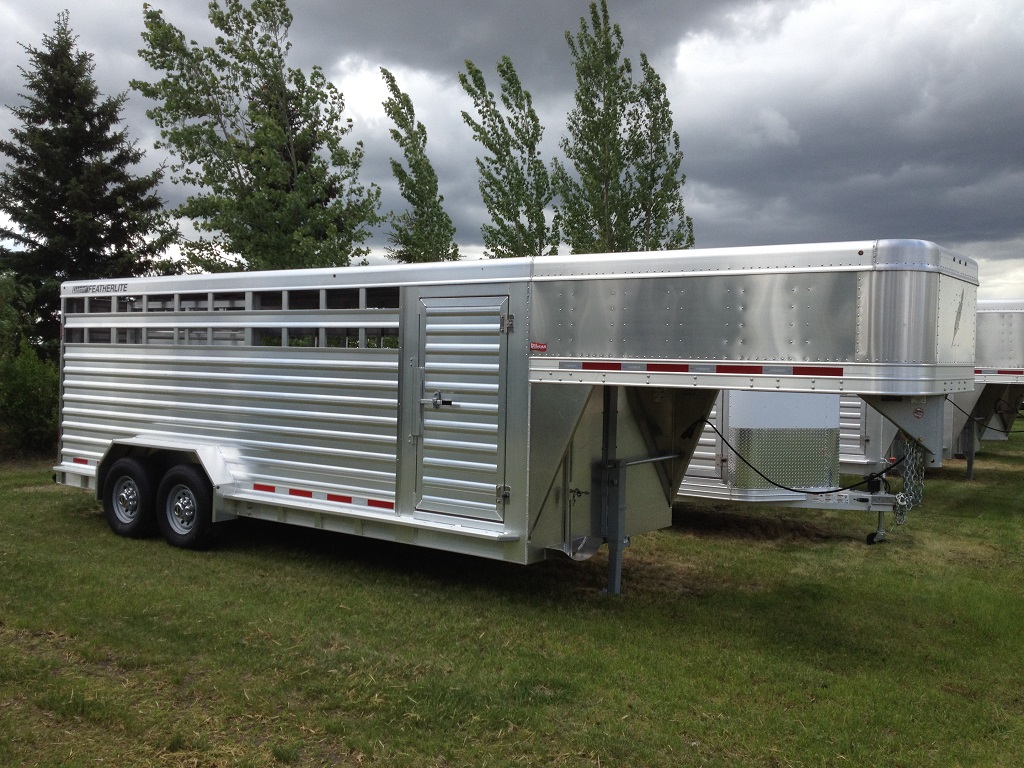 8127 Stock Trailers are in stock in multiple sizes and can be ordered to suit your needs.
Value meets versatility in the famous Featherlite Model 8127, which is recently enhanced with redesigned sidewalls and a redesigned slam latch. This gooseneck stock trailer offers prospective buyers the ability to customize their trailer, including the length and height. They can choose as well from an almost endless list of customization options. This is a trailer that is guaranteed to be uniquely yours!
Scroll Down to preview trailers we have in the yard !!! Plexi glass and mats available for any trailer.
8124 26'x 7.6 X 7
One of our most populat
8127 30′ x 8'x 7′
This Trailer is due arrive the second week of November and likely won't last long. its an ideal trailer for a larger operation or one needing to get more cows on each load between pastures. 7K Tri axle Boasts the large access door 54″, Gates with sliders are hung at 8, 10, 12 ft. Skin on nose is Charcoal for a sharp finished look, let us add your ranch name or brand so you can be promoting yourself down the road.
Suggested Retail is $48,700 Priced at $44,506.00
8127 30′ x 7.6′ x 7′ Tri Axle
Cattlemen's special this has been our most popular 30 ft layout. 8ft, 10ft and 12ft.compartments with sliding gates on every divider set at 8ft, 18ft making the gates all hang flush back when open.
The 54″ escape door is an increasingly popular option load your ATV or a pallet of mineral or drop a bull out the side. Beautiful dark skin on nose. Comes with spare. Ag Lease Financing available or loan options. One in Photos sold next is on its way.
Suggested Retail is $47,400 Priced at $43,696.00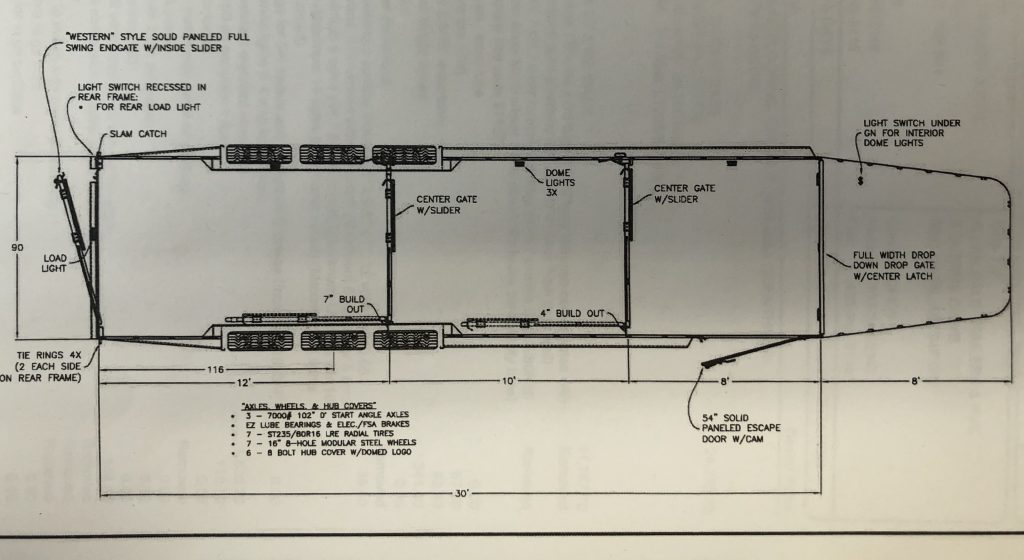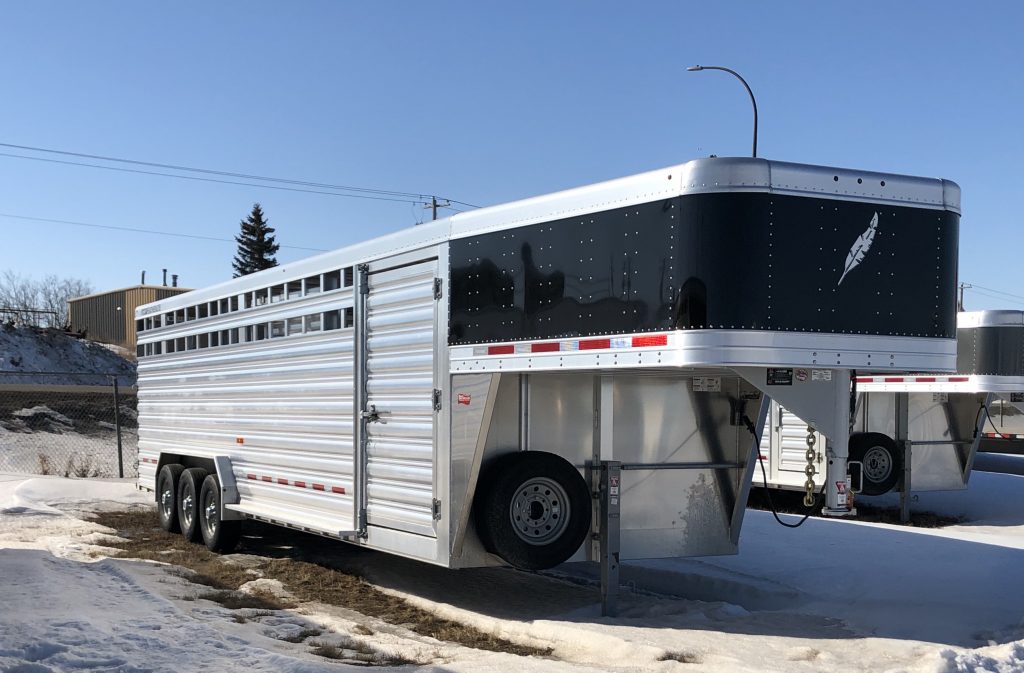 8127 : 26′ x 7.6′ x 6.6′ on 8K tandem axles
The 26ft is the new 24ft. Its the most popular size we sell, it's set up to get in and out of some tricky field hauls or tight yards with a big load on these tandem 8k torsion axels. Rear slider hung on outside, Gates are hung for 3 equal compartments, Westerner package upgrade, vented drop down on under goose neck. Plexiglass and mats also an option.
Ag lease to own financing available. $36, 680.00
8127 24 X 8 X 7
This stunner is the perfect all round trailer. 24 L x 8 W x 7 T it's got loads of room for horses or show cattle to stand and will fit your ATVs too. Lots of tie hooks inside and out as well as extra lighting because who likes unsaddling in the dark. The 5 ft front compartment with extra large escape door makes for a great tack room when you don't need to fill it with calves. Ag Lease Financing Available. $35,250.00
Black nose is sold Charcoal Arriving first week of NOV 2020!!
8127 24'x7.6'x7
7.6 x 24x 7ft tall up grade. Set up great for hauling pairs to grass in the spring with 5 ft front stall and two equal back compartments 9 calves in the front and 9 cows in the back two. Slam latch feature on the back door. 7k axles western package and a matching spare. SOLD
8127 24'x7.6'x7
See this Trailer at Ag Visions in Lloydminster Feb 13 & 14
7.6 x 24X 7ft tall up grade and 54″escape door , load your quad, set a pallet of mineral on or unload the bull this option is becoming increasingly popular. This trailer is set up great for hauling pairs to grass in the spring with 5 ft front stall and two equal back compartments 9 calves in the front and 9 cows in the back two. Slam latch feature on the back door. 7k axles and a matching spare. Ag Lease Financing Available. SOLD
8107 16ft Bumper Pull
This is a great run around or starter trailer. This compact model is perfect for hauling a few livestock just about anywhere great for horses or a load of bulls. Ag Lease Financing Available
Priced at $17,999.00 SOLD